Child and Adult Lower Limb Clinic
A Member of Healthway Medical
Child and Adult Lower Limb Clinic
A Member of Healthway Medical
Straits Podiatry is a podiatry clinic in Singapore that specialises in the management of all foot, ankle and lower limb conditions. Our podiatrists in Singapore specialise in people of all ages (infancy to the elderly), and we have a dedicated children's area for paediatric podiatry services. The common problems our podiatrists support and manage include children's foot conditions, difficulty standing or walking, sports injuries, foot and ankle pains, ingrown toenails, and general foot care.
NO STEROIDS, NO SURGERY, NO DOWNTIME
At Straits Podiatry, our goal is to help patients avoid any surgery for their conditions. Using gait analysis and cutting-edge technology such as Extracorporeal Shockwave Therapy and Magnetotransduction Therapy, our podiatrists specialise in providing non-surgical podiatry treatment options to support and manage various foot pain, ankle pain, knee pain, and more. No surgery means no downtime, and you can continue your daily life whilst recovering.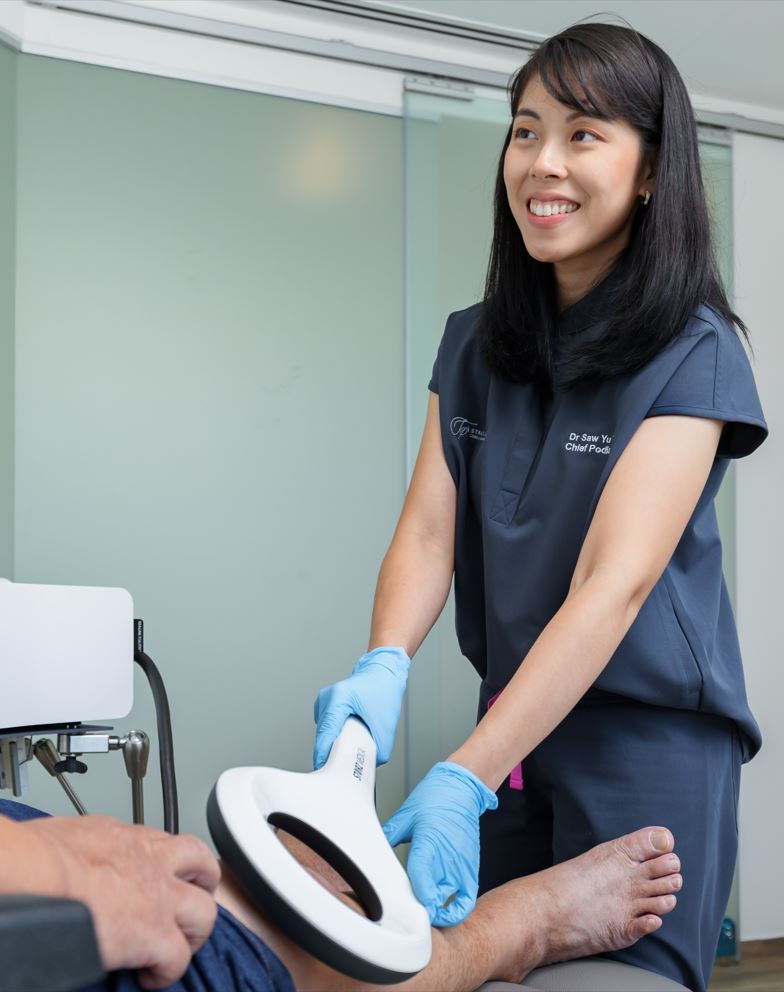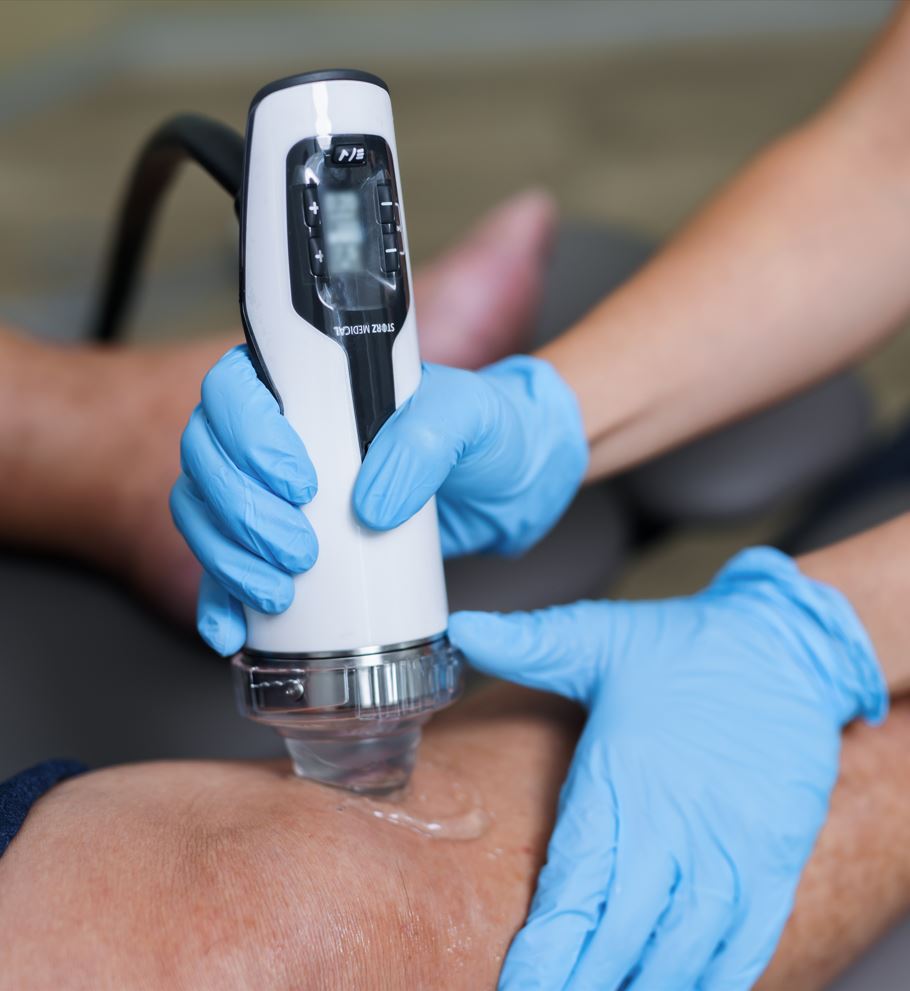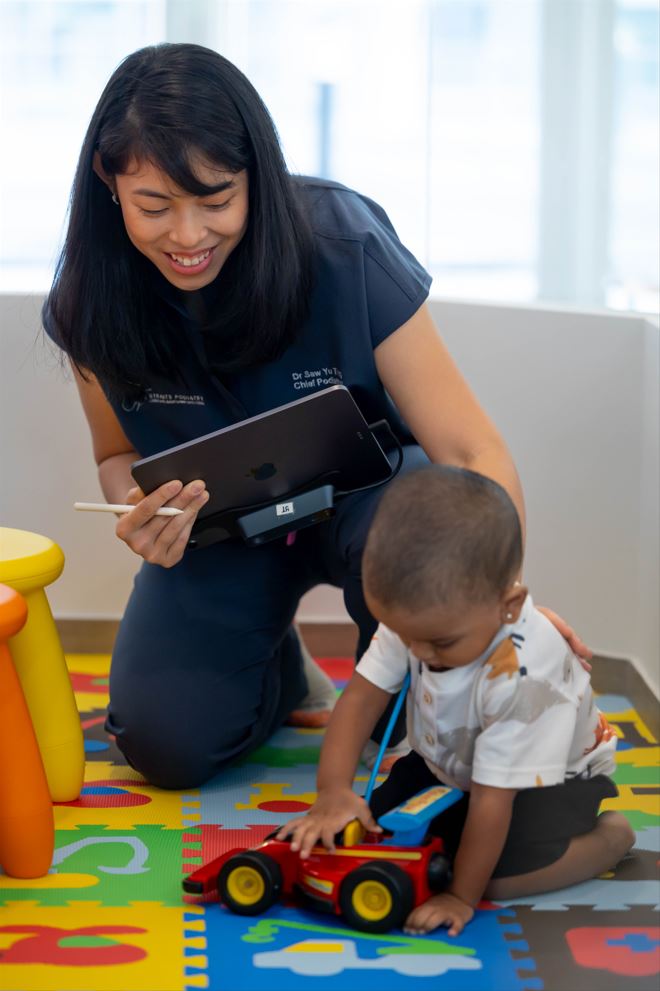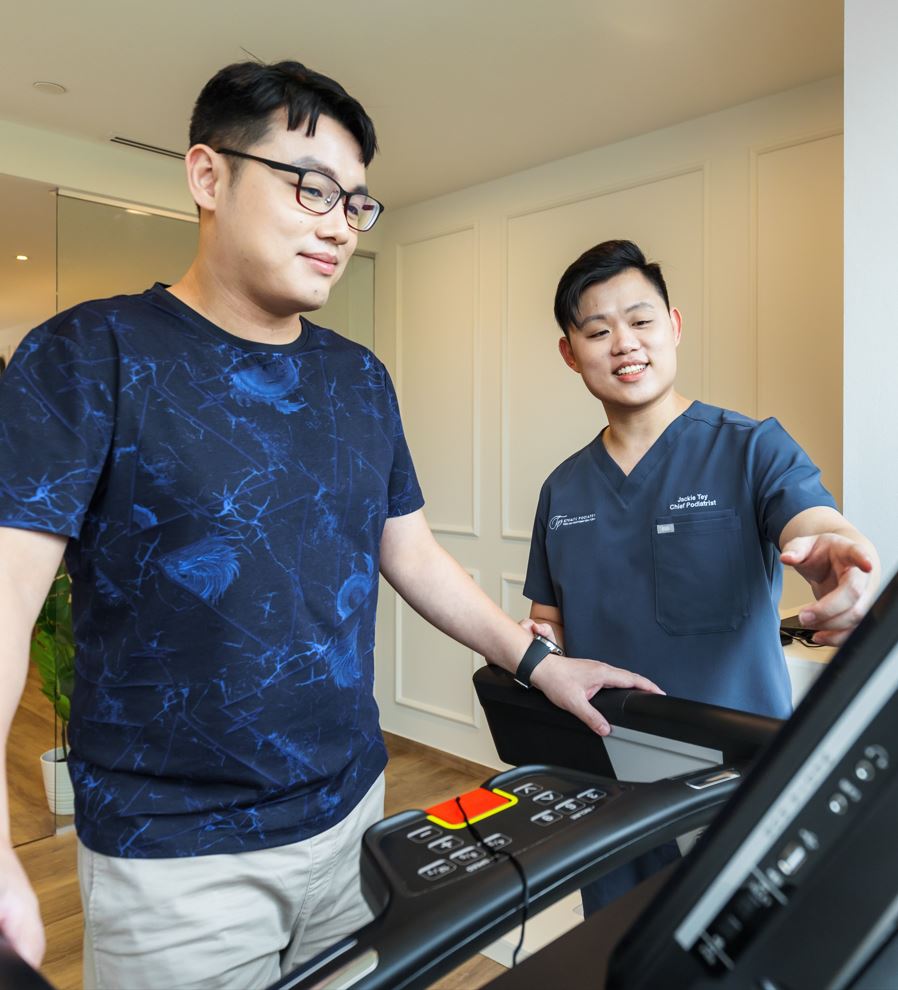 EXPERIENCED LOWER LIMB, FOOT AND ANKLE SPECIALISTS IN SINGAPORE
Growing up, Dr. Saw Yu Ting (Doctor of Podiatry Medicine, USA) was an avid athlete, playing volleyball, tennis, and basketball on school teams throughout her secondary school. She often had pain from her bunions and blisters on her feet. A bad ankle sprain finally brought her into the podiatrist's office one day and her podiatrist's passion for her patients inspired Dr. Saw to pursue podiatry. Dr. Saw completed her surgical residency at Long Island Jewish Forest Hills Hospital as a foot and ankle doctor. She began her practice in the United States of America before returning to serve as a Podiatrist in Singapore.
Like many others, Mr Jackie Tey grew up not knowing he has significant flatfeet. He used to suffer from aches and pain in the knees and feet but had never sought medical attention. It wasn't until he suffered from both knee meniscus tears during National Service that he found out the root of his problem was flatfeet. Mr Tey was referred to see a Podiatrist and was intrigued by the work of the foot specialist and the concept of human biomechanics, which inspired him to pursue a degree in Podiatry. Mr Tey has been serving as a Podiatrist in Singapore since graduation and had years of experience with significant contributions in public hospitals.
EXPERIENCED LOWER LIMB, FOOT AND ANKLE SPECIALISTS IN SINGAPORE
Our 4-Step Process On Your First Visit
We take care of our patients every step of the way. Here is what to expect on your first visit.
I brought my dad to see Dr Saw a few months ago for his plantar fasciitis. He wasn't able to walk properly then but has since been able to resume his normal activities after 6 sessions of shockwave. Thanks Dr Saw for taking care of my dad! Besides using her clinical expertise to assess and treat my dad, she is a really nice doctor with a heart for her patients!
i am very grateful for Straits Podiatry for helping me recover from my ankle sprain. i underwent 4 times of EMTT and shockwave therapy and i am completely ok now! the staff there are very friendly too and Dr Saw is approachable and professional. thank you so much once again!
Very good experience!!! Dr. Jackie was really patient and was able to identify and thoroughly explain the problems in my lower limbs. I felt great after the first treatment. Was a great experience and I will definitely be back again!
I recently had the pleasure of being treated by Dr. Saw who helped me get rid of a stubborn case of warts on my feet. Dr. Saw is warm, friendly, and incredibly knowledgeable. She took the time to listen to my concerns and answer all of my questions. Her treatment approach which involve freezing and a minor surgery was thorough and effective. She gave me detailed instructions on how to care for my feet after the treatment, and followed up with me regularly to make sure that the warts were fully gone. Thanks to her expertise and care, my feet are now completely free of warts!
Had knee pain from running and I visited SP. Had consultation and FSWT treatment with Dr. Saw. Dr. Saw is very nice and professional, and the staff are also very welcoming and friendly. My knee pain has completely healed after treatment, and I highly recommend SP!
From the moment I stepped into their clinic, I was greeted with warmth and professionalism from the entire team. The clinic itself is clean, modern, and well-equipped with state-of-the-art technology, creating a welcoming and comfortable environment for patients. I was impressed by the expertise and knowledge of the podiatrists at Straits Podiatry. They take the time to listen to concerns and thoroughly assess conditions before recommending a tailored treatment plan. The team at Straits Podiatry truly cares about their patients' well-being and strives to provide the best care possible. They are highly skilled and knowledgeable in their field, and I have no doubt that they are among the best podiatrists in Singapore. Overall, I highly recommend Straits Podiatry to anyone in need of foot, ankle and lower extremity care. They provide a top-notch service and are dedicated to improving their patients' quality of life. If you are looking for a podiatrist in Singapore, look no further than Straits Podiatry.
Natalie Nicole
May 2, 2023.
I came across Straits Podiatry as I am looking for something to help with my flat feet. My feet tend to ache after walking for long distances and carry my baby makes it worse! I saw Mr Benedict Khoo the podiatrist there and he did an assessment of my legs and explain to me how my flat feet is causing the pain on my feet. He did a customised insoles and provided me with recommended shoes advice. I have been using them for a few months and my pain have reduced a lot! I can go for long walks with my baby now without limping and I am so happy! Thank you Mr Benedict and Straits Podiatry!
Nadia Raza
April 27, 2023.
I was in need of a very urgent consult on behalf of my firstborn. Not knowing exactly what happened to his little toe and expressing pain whenever he walks really broke me as a mommy. I googled and 'Straits Podiatry' was the first to "pop-up". Boy was i happy to receive a quick reply! We were leaving for our long holidays and needed solution FAST, having enquired and sending pictures for the Dr to assess accordingly, we were given an appointment within A DAY! A thorough conversation and solution-making all within the same consult day, i am pleased to have met with Dr Jackie Tey and have my son directly under his care. His knowledge on his skills were spot-on. I was free to speak my mind and Dr Tey was gentle with my 5-year-old. The two most important factor (hehe). I cant thank him enough for the quick respond to our aid, we left the country with medicines prepped & ready-to-go by the clinic. Thank you again to Staffs @ Straits Podiatry, ultimately Dr Jackie Tey. Till our next visit! (Photos included: wound BEFORE visiting 'Straits Podiatry' & AFTER we visited) Much love; Nadia Ayden Ezra, Ilyas.
Dr. Saw is great! Super caring and knowledgeable. I had some joint and foot pain when walking and she was able to treat both issues effectively with shock wave treatments and custom insoles. Thanks to Dr. Ting, I'm now able to walk and run pain free. I highly recommend Dr. Ting.
I walk in because I just happened to pass the clinic. And Dr Saw was very kind and agreed to see me. The first consultation she spent time to asked about my medical history and examing my ingrown toenail. She is very caring person and took few seconds to cut out the nail that has been bothering me for months. She also follow up about my healing progress. Highly recommended and thank you Dr Saw!
Podiatry Near the West and East Coast
Located next to Rochester Mall
Clinic Address:
31 Rochester Dr, #02-01 (Hotel Block), Singapore 138637
Operating Hours:
Monday to Saturday: 9 a.m. to 6 p.m.
Closed on public holidays
Phone:
(+65) 6990 4574
Clinic Address:
i12 Katong, Core Collective
112 East Coast Rd, #03-01/02/03/04/28, Singapore 428802
Operating Hours:
Wednesdays 3 to 6pm (By Appointment Only)
Phone:
(+65) 6990 4574
Do you have a question? Ask Us